Upah minimum 2023 naik maksimal 10%: baik untuk pengusaha dan pekerja?
Written by

Muammar Syarif, Podcast Producer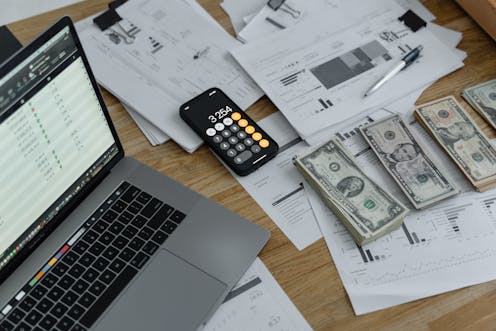 Kementerian Ketenagakerjaan mengumumkan upah minimum tahun 2023 naik maksimal 10%. Pengumuman ini tercantum dalam Peraturan Menteri Ketenagakerjaan (Permenaker) nomor 18 tahun 2022[1] tentang penetapan upah minimum 2023.
Penghitungan upah minimum untuk tahun 2023 dihitung menggunakan metode baru dengan mempertimbangkan faktor seperti inflasi dan pertumbuhan ekonomi.
Penetapan upah minimum ini mengundang aksi penolakan dan unjuk rasa pekerja. Bahkan, serikat buruh di Jakarta berencana melakukan gugatan ke Pengadilan Tata Usaha Negara (PTUN)[2].
Tak hanya pekerja, Asosiasi Pengusaha Indonesia (APINDO) juga menolak ketetapan ini[3] karena bisa berdampak kepada pelaku usaha, terutama sektor padat karya dan UMKM.
Pertanyaannya, berapakah idealnya kenaikan upah minimum tahun depan?
Dalam Episode SuarAkademia terbaru, kami berbincang dengan Bhima Yudhistira Adhinegara, direktur dari Center of Economic and Law Studies (CELIOS).
Menurut Bhima, idealnya upah minimum bisa naik di atas 11%. Ini berdasarkan perhitungan angka pertumbuhan ekonomi ditambah inflasi, merunut pada Peraturan Pemerintah nomor 78 tahun 2015 tentang pengupahan[4].
Ia menambahkan, kenaikan upah minimum ini seharusnya bisa menjadi stimulus belanja rumah tangga di tengah situasi ekonomi global yang tidak menentu. Merujuk pada studi pemenang Nobel Ekonomi 2021, David Card[5], kenaikan upah minimum bisa berdampak positif pada omset pengusaha karena menaikkan belanja dan memutar roda perekonomian. Kenaikan upah minimum juga tidak ada hubungannya dengan turunnya kesempatan kerja.
Simak episode selengkapnya di SuarAkademia – ngobrol seru isu terkini, bareng akademisi.
Authors: Muammar Syarif, Podcast Producer
Read more https://theconversation.com/upah-minimum-2023-naik-maksimal-10-baik-untuk-pengusaha-dan-pekerja-196138