Hotel Services on-the-go with handy Concierge Chat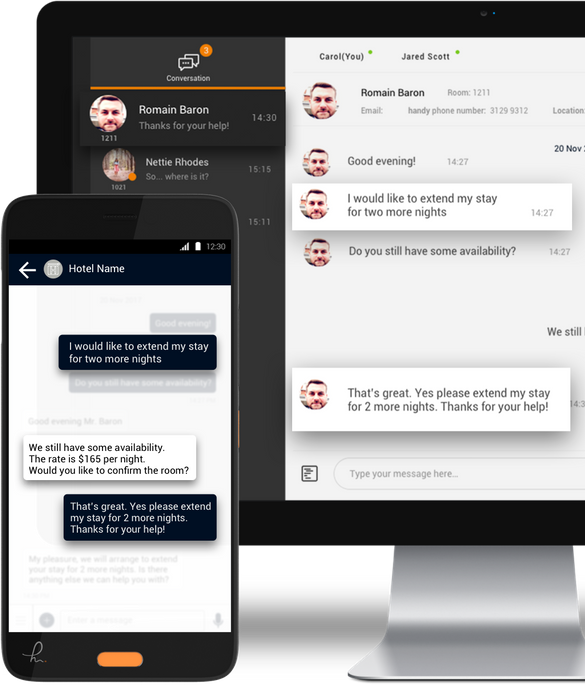 Tink Labs Limited, one of Hong Kong's most successful startups, launched the latest handy Concierge Chat -- an instant messaging feature that allows guests to have direct and instant communication with hotels anytime, anywhere. The chat will act as a personal concierge for all guests via handy, where their questions such as opening times of hotel facilities and requests like booking spa treatments, can be answered with ease from the comfort of their handy device.
Messaging has become the preferred way for guests to communicate with the hotel as 64% of consumers want all businesses to be available and contactable via messaging applications. It's important to be where the guests are most comfortable, in order to cater to their needs and gain their loyalty.
Hotels can keep track of every interaction and request from each guest in an organised manner and remove the issue of leaving guests waiting via phone calls or at the desk. The chat is even effective when guests are outside of the hotel premises, making it easier for hotels to provide their service during the entirety of their trip.
In additional to Concierge Chat, handy's 'Push Message' is a push notification feature designed to personalize guest experience with targeted marketing campaigns. Hotels can use the feature to 'push' promotion of their services and offers such as happy hour, F&B and spa promotions or simply a personalized welcome message. Learn more how hoteliers around the world have uplifted guest experience using handy.
Images and screenshots of handy and Concierge Chat are available to download.
About handy

handy, the flagship product from Tink Labs Limited, is a revolutionary hospitality IoT solution designed to uplift ancillary revenue, guest satisfaction and drive better cost efficiencies for hoteliers. For travelers, handy is the world's first amenity that combines an in-room guest services platform to interact with hotels and an enabler to hassle-free travel experience.
Tink Labs is committed to build the world's largest tourism ecosystem that covers the entire travel journey: pre-, during, and post-trip. handy is already available in 80 countries around the world, covering 650,000 hotel rooms and has helped over 25 million global travelers stay connected.