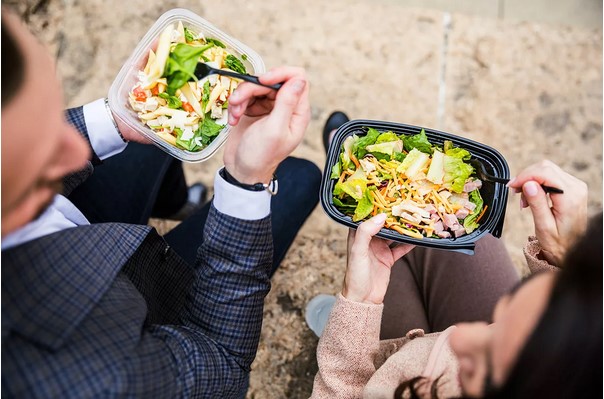 People who work hard and long just don't have the time to make themselves dinner when they get home. The one thing to remember if you're always busy not to keep unhealthy snacks around the house. You know that if there are no other choices you'll get home and turn on the TV then sit down and pop open a bag of potato chips. What you can do instead is prepare some healthy snacks ahead of time and have them ready to grab and eat.
Snacks to have around:
Keep apples in the fridge and once you get home quickly chop up some apples and you have a cold, juicy snack.
Have Greek yogurt in the fridge and then just add some fruit or granola.
Make some popcorn and mist it with olive oil and shake some herbs on.
Have nuts ready to grab and eat.
Keep some delicious hummus on hand and have it with crackers.
Have cheese and crackers
All of these quick kinds of snacks are much better for you than processed foods, fast foods that you can pick up, and salty packaged foods like potato chips.
No one who is busy wants to come home to make a big dinner. There are many 5 ingredient dinners you can find recipes for online and as long as you keep the ingredients you need at home you can throw together a delicious meal in just minutes. It might be easier to just pick up the phone and call for some take out but you know where that will get you. Besides being expensive to keep ordering out you are also stuffing yourself on many empty calories.
The one thing you have to do each morning is to make sure to eat some breakfast. You don't have to have a lot but even a nice piece of toast with some egg is better than nothing and will keep you going at work until lunch time. At lunchtime choose salad bars over fast food and you'll be leading a much healthier lifestyle. If you have a fridge at the office that you can use take some of the healthy snacks you have prepared for yourself at home and when hunger strikes in the late afternoon have a snack which will last you until you get home.
You know how busy your schedule is during the week and how tired you are when you get home. You should consider making foods over the weekend that you can freeze and then just heat up for dinner during your busy week. Make a delicious meat lasagna or dinner seafood lasagna and divide them into portions which you can then freeze. Once you get home just heat up your dinner and enjoy. You can add some salad to your meal. If you are going vegan you can bake up some vegan peanut butter cookies to grab as a snack or bring some along to work with you.
The best advice for busy people is to keep their pantry well stocked. If you have dry and tinned ingredients on hand, plenty of condiments, oils, vinegar, herbs and spices you can throw together any meal in a matter of minutes. Keeping a well stocked pantry will also save you from constantly having to stop off at the supermarket after a tiring day at work. Don't forget to keep frozen vegetables on hand, have grated cheese, crushed garlic and ginger ready to be used in the fridge. You can stock up on bread and keep it frozen until you need it. When you have the time on weekends make stews, casseroles and other kinds of foods that you can divide into portions and freeze for future meals.
Create great tasting one-pot meals. You can place the ingredients into your instant pot in the morning and come home to a hot and ready dinner at night. Make use of a microwave for those frozen meals you have prepared. Never throw out leftovers especially pasta sauces which can be frozen and used at anytime. So if you are always busy you won't neglect your meal times and you'll always be able to have a healthy dinner even if you don't do much cooking during the week.