A Life of Tea With Meena Amma's Line Rooms, Sri Lanka
Written by

Prasanna Welangoda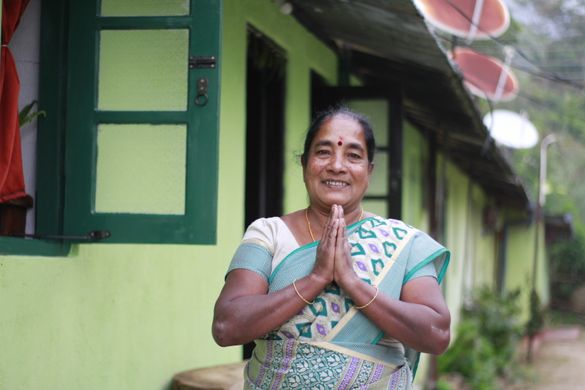 Her smile is infectious; her greeting of 'Vannakkam'  the perfect complement. Neatly dressed in a brightly colored sari, this lady's name is Meena Amma (literally, Meena Mother) and she's full of countless stories just waiting to be told.
Meena's life has been one of struggle and perseverance, and is testament to the inner strength of a woman. Born in the Roseburry estate, Bandarawela and one of six children to the estate tailor and nanny, Meena completed her primary education at the estate school and began her career as a helper in a garment factory. This was short-lived, and she returned to the estate to become a tea plucker.
As with everything Meena has attempted in life, plucking came naturally to her and she was a star - resulting in a transfer to the estate day care center as an attendant, due to her motherly personality. After marriage, she and her new husband moved to the Warwick estate, where her sister was employed. Once again, she began working in the tea fields and transferred to the day care once her previous experience was recognised. 
Her career with Jetwing began in a completely different manner, however. Foregoing all the experience she had with tea and children, Meena actually joined Jetwing Warwick Gardens as a gardener! Located 6000 feet above sea level and a lovingly restored century old planter's bungalow, Jetwing Warwick Gardens was a true test of her adaptability and within a few short months, the gardens took on a life of their own - a statement often expressed by guests. Eventually, Meena took over the entire housekeeping function for the five lavishly appointed rooms in the main bungalow.
Meena's drive is unstoppable, as is evidenced in her life's experiences. Based on an idea of hers, Jetwing Warwick Gardens renovated two line rooms formerly inhabited by tea plucking families; in her very words, to give visitors from all over the world 'a taste of the simple life, it may be a hard life but we live with joy. I want to show them a life of tea, to pluck the way we do, to brew it the way we do, and to eat as we do. This is how I grew up, and how I raised my two children as well (now employed in Colombo)'. At Meena Amma's Line Rooms, Meena overlooks the entire experience - from keeping a watchful eye on how the tea is plucked, to cooking a delicious Sri Lankan meal of hoppers in a wood-fired stove and even accompanying guests on the local tea walks or temple trips. 
"The biggest export we have right now and even traditionally has always been tea", as Hiran Cooray, Chairman of Jetwing says. "I have known Meena Amma for many years, and she recently told me about her life experiences and her desire to welcome guests in a different setting; one that might not be 5 star luxury. I've always believed that the essence of travel is culture, and sometimes that gets lost in extravagant surroundings. Meena and her family have lived a simple life, and that's what she wants to show the world". 
Family owned and in the tourism industry for the past 45 years, Jetwing Hotels has surpassed expectation at every aspect. Building on their foundation of being passionate, as well as the experience of true, traditional Sri Lankan hospitality, constantly pioneering discoveries captures the essence of the brand. Such a strong statement and direction have enabled Jetwing Hotels to imagine, create and manage marvels and masterpieces, where distinctive design and elegant comfort complement each other and the environment. In line with the Jetwing Hotels Sustainable Strategy, across all properties sustainable and responsible practices are given precedence with resource efficiency, community upliftment and education, and awareness being some of our key focus areas.