Hong Kong to Become Everyone's Muse in March - Hong Kong Arts Month to Take Place from 1 to 31 March, 2018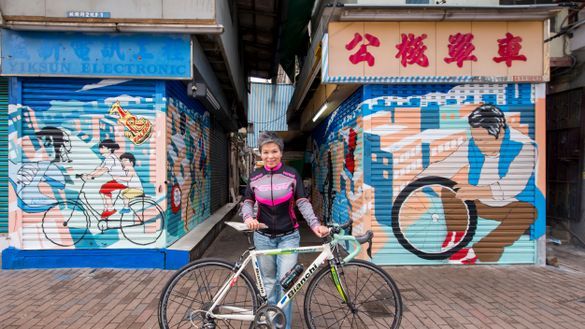 Hong Kong's flourishing arts scene will unite to present a month–long celebration of the arts from 1 to 30 March 2018. Hong Kong Arts Month will feature internationally acclaimed events through to neighbourhood exhibitions and community performances, held in aesthetic pockets throughout Hong Kong Island and Kowloon. Asia's buzzing hub will be transformed into an art lover's haven, paying homage to the classic and traditional styles through to the more modern and contemporary.
Here's just a taste of what's in stall...
Acclaimed international art events in Hong Kong

The Hong Kong Arts Festival (HKAF) will be the premier event to kick-off Hong Kong Arts Month. Running from 23 February to 24 March, the 46th HKAF will feature over 1,700 international and local artists across 130 performances. Highlights include: American Ballet Theatre's Whipped Cream; National Theatre of Great Britain's The Curious Incident of the Dog in the Night-Time; and Welsh National Opera's Debussy's Pelléas et Mélisande.
Art Central Hong Kong, will be held in the Central Harbourfront Event Space from 27 March to 1 April, with a VIP preview and inauguration event held on 26 March. Now in its fourth year, the event will introduce 30 new galleries and more than 100 international galleries, many of which are from the Asia-Pacific region. Art Central Hong Kong's dynamic week-long programme also includes interactive installations, performances and a panel discussion, and is set to be the largest event to-date.
Art Basel Hong Kong, now in its sixth year, will take place at the Hong Kong Convention and Exhibition Centre from 29 to 31 March. The globally renowned art fair will feature 248 leading galleries from 32 countries and territories. 28 exhibitors from regions including Asia-Pacific, Europe and the Americas will participate for the first time. Art Basel will deliver an extensive view of its diverse arts vision, historical materials and cutting-edge works by established and emerging artists.
Savour distinctive arts in local neighbourhoods

Authentic and inspiring events in local neighbourhoods are also gems to be discovered. Sham Shui Po, a local neighbourhood which offers one of the most heritage-rich experiences in Hong Kong, is one of the highlights of this year's Hong Kong Arts Month. The HK Urban Canvas Community Art Project, organised by the Hong Kong Youth Arts Foundation, has brought talented local artists and students together to create 10 shutter artworks that tell the stories of the local shops in the Sham Shui Po neighbourhood. Free weekend tours will run from late-March to mid-April.
For those checking out Art Basel, also consider gallery hopping in Wong Chuk Hang. The South Island district, which includes Wong Chuk Hang, has been an upcoming art precinct thanks to the opening of the MTR South Island line in late 2016. Around 16 art galleries and studios in the South Island Cultural District will open their doors to host free exhibitions and performances on 29 March for South Island Art Day. Free guided tours will also be available. (www.sicd.com.hk)
Hidden within industrial buildings within the New Territories is another up-and-coming arty neighbourhood, Fo Tan. Since 2000, the area has been transformed from a predominantly industrial district into a vibrant artistic community, given the more affordable rents. From pottery, sculpture and Chinese calligraphy to contemporary art pieces, there is always something to discover. Fotan Open Studios will host a meet and greet on 31 March, where visitors can discuss and exchange ideas with local artists. (www.fotanstudios.org)
A comprehensive range of events not to be missed

Art and cultural spaces, such as the old Police Married Quarters (PMQ) and the Fringe Club will be buzzing during Hong Kong Arts Month with additional exhibitions and performances. Various hotels and malls including K11 and Pacific Place will also host their own art inspired events.
Hong Kong's first international sculpture park, Harbour Arts Sculpture Park, will include sculptures by more than 18 emerging and renowned local and international contemporary artists. The event will run from 22 February to 11 April at the Central and Western District Promenade, Victoria Harbourfront, and provides a rare opportunity to view these pieces of art with the Kowloon city backdrop.
The ArtisTree of Taikoo Place will host a musical exhibition, Notating Beauty That Moves, from 3 to 29 March. The event will include artworks of various forms and performances, all showcasing classical and contemporary pieces from the past and present composers.
For general information on Hong Kong visit www.discoverhongkong.com/au or www.discoverhongkong.com/nz.