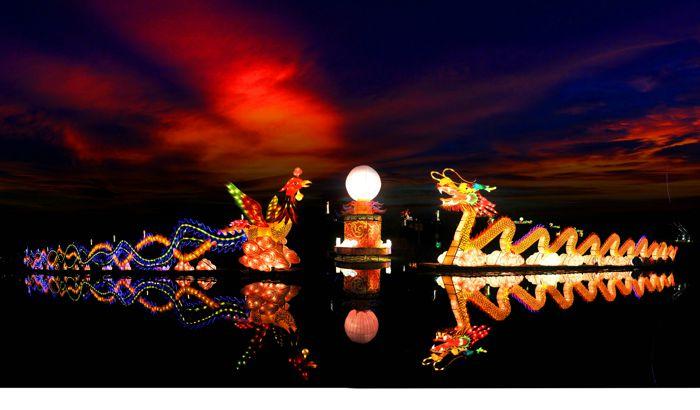 Melbourne has yet another signature event on its calendar with the announcement of the 2019 ICD Light Up Melbourne Festival. This is the first large lantern event of its kind in Australia, with previously displays showcased in China, Singapore, US, Canada, Germany, France, Netherlands and Belgium. The Festival is an initiative of the Association of Australia Sichuanese and will be held on April 6-9 at Birrarung Marr, set along the North Bank of the Yarra River.
President of the Association Jolin Zhou said appearing over 2,000 years ago in the Han Dynasty, lanterns have remained a staple in Chinese history and traditions.
"The Association of Australia Sichuanese Inc. has always had a strong belief in sharing Chinese culture with the wider community. In 2019, we are proud to bring to Melbourne such an internationally recognised Lantern showcase. Hopefully with this event, the Association can continue to serve our community as well as promoting cultural exchange."
ICD Chairman Michael Mai said as naming rights sponsor ICD is excited to be involved in the Festival's first year.
"It is very important to us as a company to contribute and give back to the community. We are strong advocates for multiculturalism and events such as these help to bring the community together to experience Sichuanese delights and to appreciate art and culture.
"The lanterns themselves are world class pieces of art and our involvement allows the people of Melbourne and visitors to our great city to enjoy them. We expect this free event will grow to come to become a highlight on Melbourne's calendar of world class events."
Festival organiser Eddy Liu said the Festival will host a number of different life-scale lanterns - including the centrepiece, The Eternal Dragon – which symbolises good fortune, strength and nobility, and a fleet of illuminated majestic cranes – representing longevity, peace.
The 4 day Festival will have a huge range of colourful market stalls including a 'Little Sichuan' area where you can taste the very best of Sichuanese cuisine. There will be food trucks, giveaways, amusement games, stages with a full weekend of entertainment.
For more information visit: www.lightupmelbourne.com.au